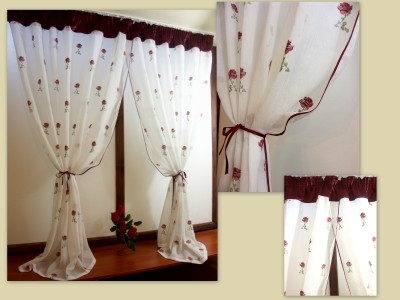 Curtains
♦ Curtains can only be washed in the delicates program (maximum 30 ° C). Do not spin! Always wash curtains separately.
♦ All metal parts must be removed from the curtains before washing. If we want to leave the stiffening elements on the curtain, insert its reinforced part into a washing net. Otherwise, they may tangle or damage the curtains.
♦ Before washing, heavily yellowed and smoky curtains should be soaked overnight in lukewarm water with powder and plenty of salt., to which you can still add 1-2 spoons of vinegar, a bag of baking powder or a little lemon juice.
♦ To stiffen the curtains a little, a cap of liquid starch or a few tablespoons of sugar is added to the final rinse.
♦ Curtains are best hung on the window right after washing, as soon as they drip off the water. So that the folds look good, they should be folded at the bottom edge of the curtain and fastened with clothes pegs.