Table ceramics.
Appropriate groups can be distinguished in the classification of household ceramics, types and varieties (table).
Table. Groups, types, varieties of typical ceramic products.
| | | | |
| --- | --- | --- | --- |
| Product groups | Typical products | Types | Variations |
| Decorative ceramics | artistic products, dishes | | |
| Table ceramics | sets, hotel porcelain | flat dishes (plates), hollow vessels (teapots, sosjerki) | decorated and not decorated |
| Porous household ceramics | humidifying filters | | |
| Garden ceramics | vases, flower pots | | |
Table ceramics are made of hard porcelain, soft porcelite and faience. There are both thin-walled products, and thick-walled. Most of the pottery dishes are glazed and decorated. Ceramic products are decorated with elements or arrangements of decorative elements. The most commonly used decorations are:
• festoon - cutting the edge of the product, e.g.. in the form of cloves;
• garland - pasowy ornament, running around the product, composed of floral motifs, geometric or abstract; it may be continuous or intermittent between recitals;
• contouring - highlighting some contours with ceramic paint or precious metals;
• spraying - highlighting the surface of the product with ceramic paint or glaze, applied with a spray gun;
• border - decoration made with ceramic paint or precious metals at the edge of the product, applied with a brush or felt-tip pen;
• strip - decoration made of ceramic paint or noble material, made with a brush;
• relif - concave or convex ornament, with the character of a bas-relief;
• rosette - ornament with floral or geometric motifs;
• wallpaper - decoration composed of decorative elements, located on the entire surface of the product, tight or loose, with small gaps between individual elements;
• staffage - highlighting the elements of the product with ceramic paints or precious metals: ear, handle, spout etc..
Each decoration element is assigned a certain number of points; their sum makes up the appropriate class. For porcelain products it has been established 23 class, for porcelain - 15 class, for faience - 12 class.
Decorating faience differs slightly from the decoration of porcelain and porcelain, because the technique of hand painting or stamping is mainly used, while the decoration is dominated by large floral motifs with bright colors.
Ceramic products, just like glass, they can be sold as single pieces or in sets, called websites. In commercial information, regarding services and ceramic table sets, their purpose is stated, e.g.. breakfast service, dinner, for how many people it is intended, e.g.. for 6 or 12 people, and the number of pieces.
Drawing. Assortment of the dinner service: a) deep plate, b) flat plate, c) oval platter, d) fish platter, e) round salad bowl, f) potato flank, g) sosjerka, h) salt cellar, i) caster, j) oil bottle, k) vinegar bottle, l) napkin holder, m) vase.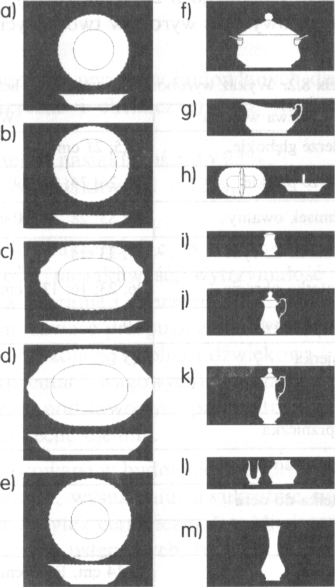 The figure shows an example of a dinner service for 6 people, composed of 25 pieces (6/25), while the table provides a detailed description of the products that make up the service.
Table.
List of products, their replacement and the number of pieces of the dinner service (6/25)
product name

Dimensions

the number of items

Deep plates

22,5; 21 cm

6

Flat plates

32; 26; 24; 21; 19; 17 cm

6

Oval platter

39; 33; 28; 24; 20 cm

3

Fish platter

39; 33 cm

1

Round salad bowl

26; 23; 16; 13,8 cm

1

Potato flank

2,0 l

1

Saussure

0,5 l

1

Salt cellar

1

Caster

1

Oil bottle

1

Vinegar bottle

1

Napkin holder

1

Vase

C-14 cm, E-27 cm, F-24 cm,

G-16,5 cm

1
The sets may include other products, meeting the expectations of users, e.g.. cups and saucers, flasks, bouillon soup, bread basket, waza, kettle, jug, imbryk, butter dish, sugar bowl, horseradish, is silent. The companies themselves determine the assortment and the number of pieces in the service or set, what could become their tradition.