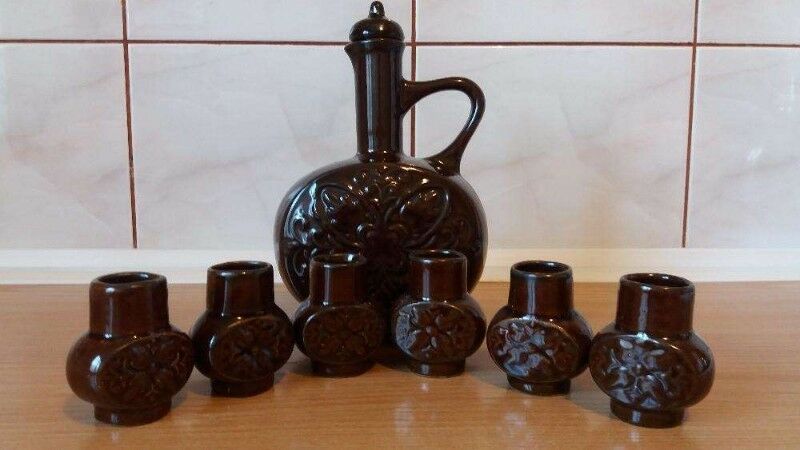 Porcelite
Porcelite is a material classified as noble ceramics, with properties intermediate between porcelain and faience. It is obtained from inferior species and much smaller amounts (percentage) kaolin. The firing temperature of porcelite in ceramic kilns is slightly lower than in the case of porcelain. The products are usually glazed, white or light cream color. They are non-translucent or only slightly let the rays of light through, their water absorption may be up to 4%. Porcelain is almost as hard as porcelain, but it is less brittle. The use of porcelite is diverse, just like porcelain.
Faience
Faience is a material obtained from white clay, more widespread than kaolin. Hard faience contains quartz and feldspar additives, while soft faience is of inferior quality clay with the addition of calcium or chalk. The products are usually fired twice at a temperature of approx. 1200° C and glazed. They are light gray or gray-cream in color, with a porous body. The water absorption of faience is achieved 10- 14%, it is completely non-translucent. After impact, the products make a hollow noise. They are characterized by low mechanical strength and easily scratch. A mesh of cracks may appear on the enamel of products, the so-called. check (wada). The faience glaze differs from the body of the product in the expansion coefficient. As a result, choosing the right glaze causes many difficulties, because the use of enamel 0 a little similar factor causes the formation of hairline fractures. It is produced from hard earthenware: tableware, facing tiles for walls, technical and sanitary products, e.g.. wash basins, sinks etc..
Kamionka
Stoneware is usually obtained from refractory clays with the addition of feldspar and small amounts of kaolin. It is white in color, gray or brown, its properties are most similar to porcelite. Stoneware is hard, light, nasiąkliwa (do 8%), resistant to alkalis and acids. It is even more resistant to acids than porcelain. When struck, it makes a strong and fairly low sound, but sonorous. Stoneware is used for the production of household goods, decorative, terracotta tiles (floor and wall tiles), is one of the best acid materials- and alkali resistant, sewage and sanitary.