A brief history of ceramics.
Ceramic products are generally defined as products formed from natural clays, and then dried and fired at high temperatures. Ceramics is a word of Greek origin and means clay (keramos).
Lots of machine parts, technical devices and articles of daily use are made of ceramics. Man's ability to manufacture these products dates back to very distant times - ancient Crete, Greece, Rome. Ceramic utensils were produced, mainly utility, with modest decoration, tiles, building components, e.g.. floor slabs.
In the Polish lands, during the reign of Casimir the Great (1333 – 1370), mainly from Kraków, clay pots were sent to Gdańsk, from where they were then exported to Denmark and Sweden. Fast development, in fact, a great revolution in the field of ceramics took place in the 13th century., when Marco Polo brought beautiful porcelain products from China to Europe. The period of intense work has begun, in which alchemists from different countries competed in creativity to create porcelain recipes with the same properties, like chinese porcelain. The skills acquired during these works were used by ceramists to create beautiful artistic products, e.g.. ornate mirror frames, figurines.
Only in 1709 r. J. Böttgerowi, the alchemist of the Saxon elector and the Polish king Augustus II the Strong, the secret of Chinese porcelain was discovered. And already in 1710 r. the first porcelain manufactory in Meissen was established in Europe, in Poland, while in 1790 r. in Korets in Volhynia. W XVIII w. there was a well-known Warsaw manufacture in Belweder (1770 r.), and also in Turtles, Ćmielów, Nieborowie. Currently, products from Włocławek are very popular, Chodzież, Wałbrzych. The figure shows examples of trademarks, with which ceramic products from individual factories were marked.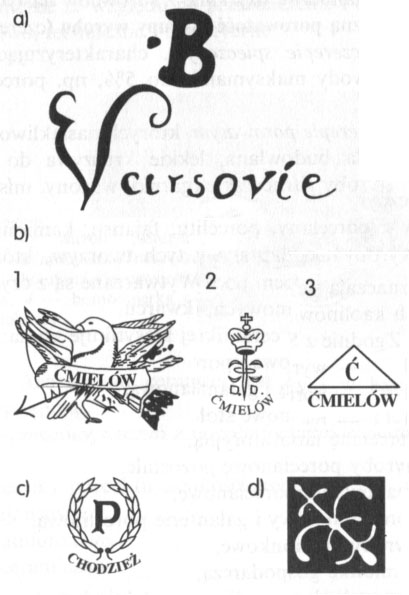 Drawing. Trademarks of the manufacturer of ceramic products: a) Belweder label a year 1768, b) Porcelain Factory in Ćmielów: 1 - from year 1804, 2 - from year 1900, 3 - for a year 1946, c) Porcelite Factory in Chodzież, ct) Faience factory in Włocławek.
In which history of ceramic products it is necessary to mention faience products, soft, made of various colored clays, beautifully decorated, called majolica. During the reign of the Jagiellonians in the 17th century. majolica products were imported to Poland from Italy and the Netherlands. To this day, they are valuable monuments of material culture and are the pride of our museums.