How to make a veil?
Curtains without lining
Curtains made of opaque fabrics without a lining are the simplest and cheapest way to cover a window or other opening. They can be washed frequently, They are therefore suitable for the most intensively used rooms in the home, such as kitchen or bathroom. We can make a curtain without a lining easily and quickly, therefore we can try out the basic techniques of sewing curtains, before we move on to more complicated types of lined curtains. So that the curtains fit nicely, sometimes you have to put weights in hems and corners.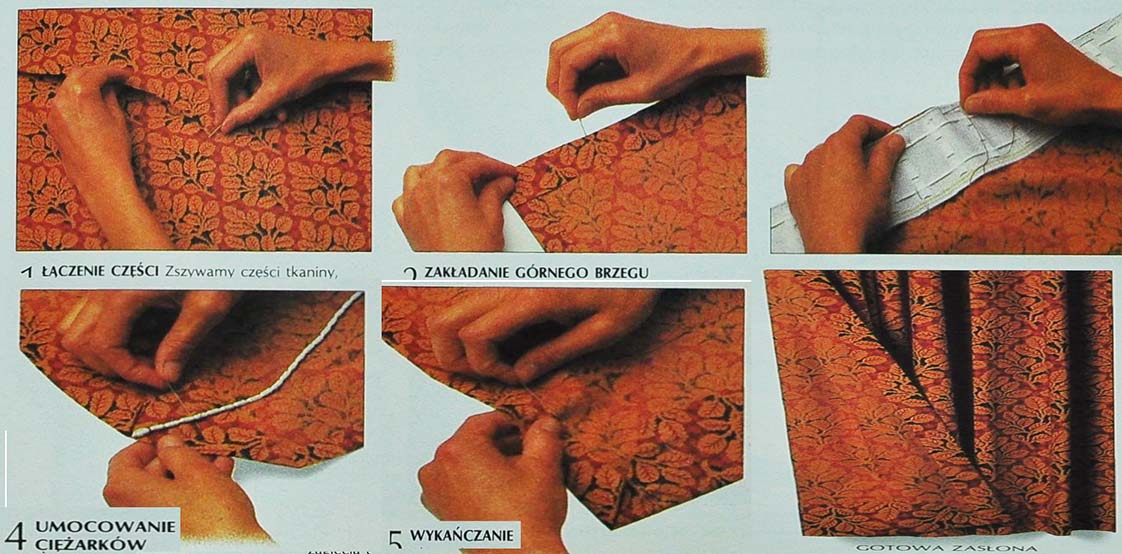 EXECUTION OF THE CURTAIN
We choose the type of suspension and shirring tape and define the width of the fabric. We measure the window and calculate, how much material we will need. We prepare a flat surface for work, tape, appropriate hooks and sewing supplies. We cut the fabric as needed, adding allowance for seams. We cut off the factory edges of the fabric.
1 JOINING PARTS – We sew the parts of the fabric, matching the pattern, if it is. We put on the left side at the bottom and on the side edges after 1,5 cm, we press. We put on the sides once again 2,5 cm and press. We roll up the precinct 7,5 cm and trim the corners. Then sew with a covered stitch.
2 ASSEMBLING THE UPPER SHAFT – We put a strip of fabric on the left side along the upper edge of the curtain 4 cm, we pin and press. We cut so much tape, what is the width of the finished curtain, adding 2 cm on each side for hemming.
3 SEWING TAPE – We pin and baste the tape just below the top of the curtain. We sew along both edges of the tape in the same direction and across the middle edge, to attach the drawstrings. We tie knots on the strings, so that they are not pulled out while gathering. Cut a piece of chain with weights equal to the width of the curtain.
4 FASTENING THE TRUCKS – We bend the lower hem and insert the chain with weights along the fold of the fabric. We sew on the weights at regular intervals.
5 FINISHING – To finish the veil, we put the hem on again and pin it with pins. We finish the edge with a covered stitch. We attach the hooks to the tape and hang it on the rail, stick or bar. We pin it ready, suspended curtain.
CIĘŻARKI
Curtains made of light or opaque fabrics will be easier to pin up, if weights are sewn into the lower hem. Weights can be purchased in the form of chains, which are inserted along the precinct, or buttons for sewing in the corners of the curtain.