WRINKLING THIN MATERIALS ON THE MACHINE
1 WRAPPING WALL – We set the machine to the longest stitch. We slightly increase the maximum stretch, folds are easy to slide out from under the foot. We sew the fabric along the edge.
2 LAYING THE MATERIAL – We sew the second time close to the first. We pull out the free ends of the threads, having made sure first, that the threads are well secured on the opposite side. We pull the frill to the desired length. We finish the threads.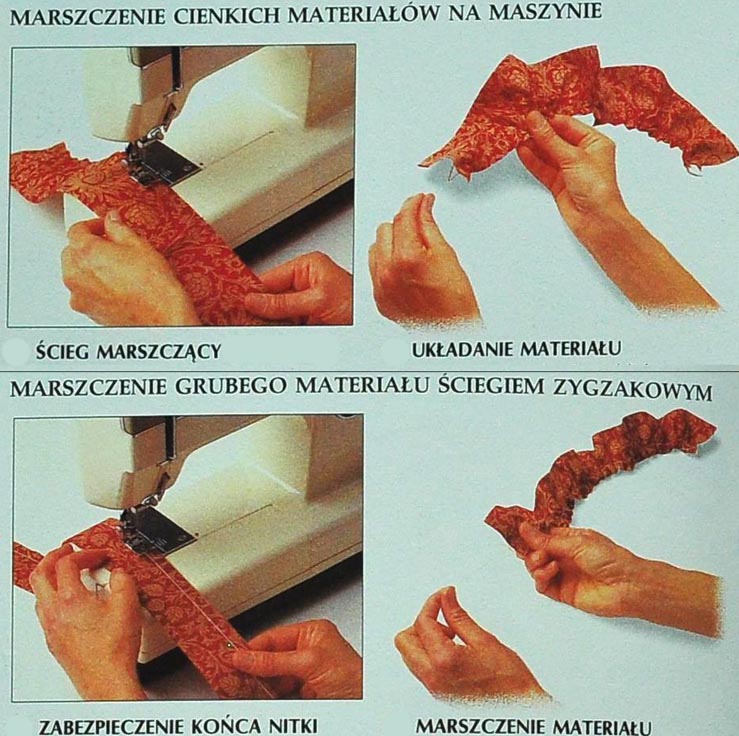 SHRINKING OF THICK MATERIAL WITH A ZIGZAG STITCH
1 THREAD END PROTECTION – We cut off a piece, strong thread , or twine the length of a strip of material intended for a frill. We put it on the bar at a distance of approx 1,5 cm from the edge and sew it to the fabric with a zigzag stitch.
2 MATERIAL SHIRT – We sew exactly one end of the thread or twine and hold the other end – we wrinkle the fabric.