Wall decorations made of boards with processed sides
The boards with treated sides can also be glued directly to the hardened wall. The cross-section of the friezes may vary. The figure shows the simplest trapezoidal cross-section of a board, which increases the apparent depth of the floor covering.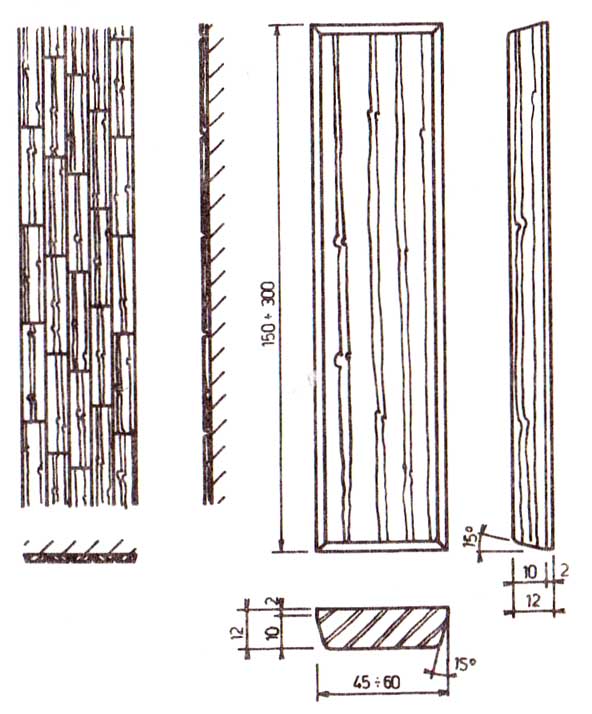 Drawing. Decoration made of boards with a trapezoidal cross-section glued to the hardened plaster.
Surface finishing should be carried out before sticking the boards, because it is difficult to create a sufficiently thick layer of varnish on the bevelled sides. Preparation of the substrate and the technique of gluing the boards is similar to that of split slats. The pattern of laying the boards is also similar.
This type of decoration is especially suitable for vestibules, hallways and interiors of recreational cottages.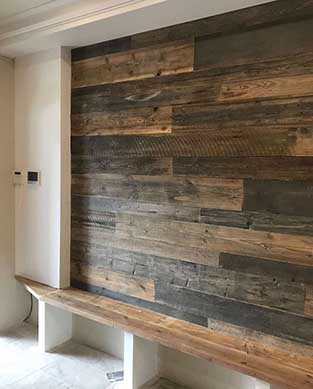 Wall decoration made of rough wood planks
Soft, spring annual growth of wood (e.g.. spruce, fir trees, Douglas fir) can be scratched with a wire brush, thus emphasizing the drawing. Hand scratching is very time consuming, therefore it is better to use a rotary brush mounted in the drill for this purpose. However, this operation is laborious.
Wall decoration made of rough wood without scratching
For a stylish room, e.g.. hunting hut, recreation house lounge, etc.. an unconventional decoration made of wood etched in a silver-gray-brown color is suitable for a small area. Such a special surface finish will be done for us… nature, if we use scrap boards from an old shack or fence for the carpet, which have been exposed to the weather for a long time. If longer boards were to be used for wall decorations, a boring surface will be created, reminding us of their origin. That is why the boards - after they are properly dried, of course - are made into laths 4,5 or 6 cm and a length of 20-50 cm, and various thicknesses in the range of 10-20 mm (drawing).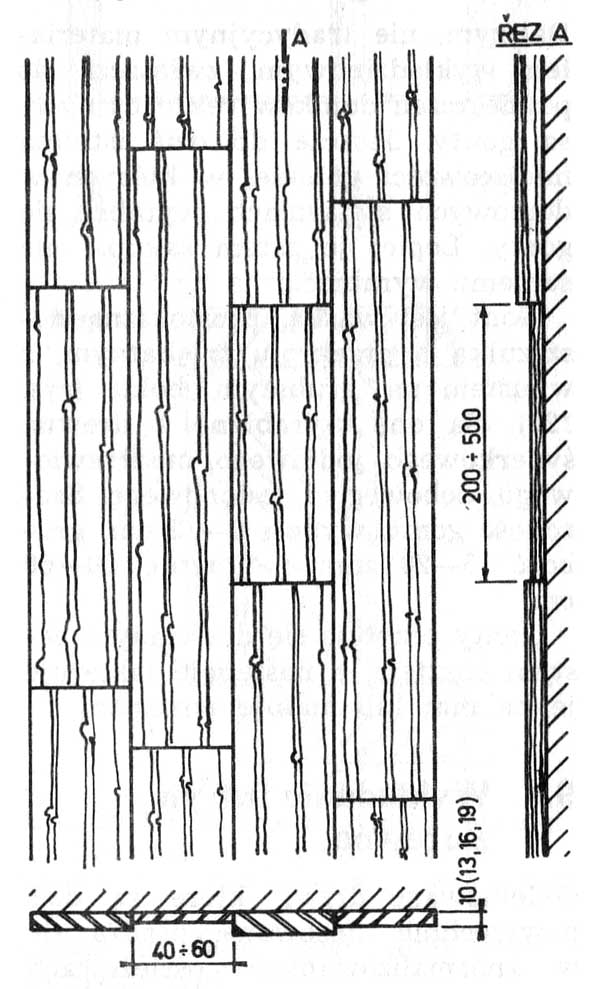 Drawing. Decorative boards with a rough surface.
There are different thicknesses for that, so that after sticking on the wall, light wood with a natural color appeared on the sides of the boards. It will also appear in some frontal planes. The alternately visible light strips of wood will enliven our wall decoration.
After sticking the boards to the wall (just like split slats) the entire surface is varnished with synthetic matte varnish or painted with varnish.
Shingles as decorative wall material.
Further, not a traditional decorative material for walls, especially for recreational cottage rooms, there are shingles. There are still mountain resorts to this day, in which shingles are made in home carpentry shops. Therefore, it is better to buy them than to make them yourself.
The shingle is narrow, a rectangular slat with a triangular cross-section, with a key on the thicker side (drawing).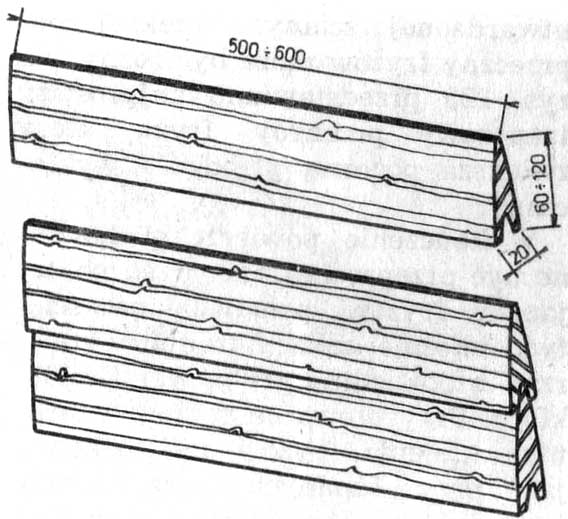 Drawing. The shape of the shingles.
They are made of spruce wood, fir, larch, oak and ash. The width of the shingle is 6-12 cm, 15-20 mm thick and 50-60 cm long.
Shingles are nailed to the wall with a dense grate, and then varnish them with a mat or varnish.