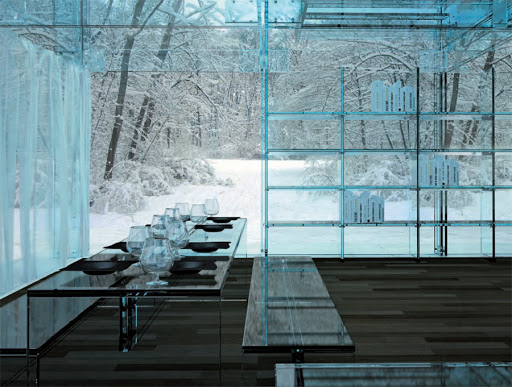 Types of glass.
Different criteria are taken into account when classifying glass.
Because temperaturę mięknięcia szkła stands out:
• soft glass — temperatura mięknięcia ok. 500°C, quite soft, brittle, susceptible to hydrofluoric acid, easy to sand;
• hard glass — o znacznej temperaturze mięknięcia, quite mechanically strong, much more resistant to temperature changes.
Given the chemical composition of the glass set, the following main groups of glass can be distinguished: soda-calcium, potassium-calcium, lead, borosilicate, silica.
Soda-lime glass it is the most common and cheapest glass with a slightly greenish color, resulting from contamination with iron compounds present in sand. It is used in the manufacture of most conventional products: utensils, packaging, window glass.
Potassium-lime glass it is a much more noble type of glass than soda-lime glass. It is characterized by purity of color, beautiful shine, relatively high resistance to temperature changes. Potassium-lime glass has been used for the production of low-fusing laboratory and table glass of a higher quality.
Lead glass it is largely similar to rock crystal, perhaps that is why they are called crystal glass. They are classified as soft glasses. It is characterized by a high density and redness (2PbO • PbO2). It refracts light rays beautifully, easy to sand and carve, Makes a metallic noise when struck. Luxury table glass is made of crystal glass, vases, platters and other products.
Szkło borowo-krzemowe It is characterized by quite high hardness and resistance to temperature changes and chemicals. It is used in the production of heat-resistant products, thermow, laboratory apparatus and cooking utensils. It is a type glass: Palex (with the addition of BaO), Jena (B2THE3 i ZnO), Pyrex (B2THE3, Al2THE3).
Silica glass it is made of pure silica (SiO2), it is characterized by high mechanical strength, thermal and chemical, it is also a good dielectric. As a valuable material optical, due to the transmittance in the visible part of the spectrum, as well as in the area of ​​ultraviolet and infrared rays, is used in the manufacture of lenses, prisms, sight glasses. This glass has been used in the production of laboratory products: kolb, distillation apparatus, coolers, acid tanks. In electrical engineering, it is used in discharge lamps.
The names of the glasses, indicating the chemical composition, is formed by adding adjectives that define the next component after silicon. The most commonly used glass is multi-component.
According to another popular glass division criterion, in addition to the chemical composition, the area of ​​application is taken into account. According to this criterion, glass is divided into:
• building glass;
• szkło techniczne',
• szkło gospodarcze',
• glass packagings.