Glass - general information.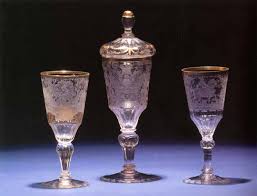 As archaeological research has shown, the art of glass making was known already six thousand years ago. Ancient was the cradle of glass industry: Egypt, Syria and Rome. After the fall of the Roman Empire, in modern times, glassmaking slowly began to revive, initially as a primitive country craft, until it reached its full bloom. To the largest glass smelting centers in the 10th century. belonged to Venice. During this period, great ones were built, luxury items in the Renaissance style, with extravagant ornaments. W XVII w. in the Czech Republic, crystal glass was obtained for the first time, which were additionally embellished with the then new technique of engraving and carving. Czech products were very expensive, an intensive search for new crystal glass manufacturing technologies has therefore begun across Europe. During these works, received, as if "by the way", window glass by casting method. In addition to ordinary products for everyday use, Magnificent bronze chandeliers were created, adorned with glass crystal pendants, multi-arm candlesticks, as well as many ornamental vessels were produced, which can still be seen in museums today.
The tradition of smelting glass in Poland goes back many hundreds of years. The first glassworks was established at the end of the 12th century. in Poznan. Glass-making centers developed in Lower Silesia, in Krakow and Sandomierskie. Subsequent partitions of Poland inhibited the development of glass-making. Only after the economic crisis in the 1929 – 1933 new small industrial plants began to emerge, which quickly took a prominent place in the national economy. The Second World War again destroyed the glassworks enormously. In the post-war years, old plants were modernized and new plants were built, m.in. Glassworks in Sandomierz, steelworks "Jaroszowiec", the packaging glass factory "Jarosław", Krosno Glassworks "Krosno S.A.".
Glass is an amorphous substance, which, as a result of supercooling, changes from a liquid to a state which gives it the mechanical properties of a solid. It is of inorganic origin (silica), inorganic-organic (silicones) and organic (resins). Glass accompanies people in everyday life to a much greater extent than other materials. It is an integral part of good apartment lighting, work premises, rest and play. Glass items enable healthy food storage, which in contact with glass does not lose its value. In addition to a large number of various utility forms, man also creates glass art products. Glass as a material is valued primarily for the following properties:
• optical, such as:
- transparency, that is, the ability to transmit light, e.g.. ordinary window glass thick 5 mm passes almost 90% light rays; this property is related to the amorphous nature of the glass,
- beautiful shine, related to the reflection of light through the glass,
- the ability to refract light and its diffraction,
- colorlessness (or color);
• thermal - related to the phenomenon of expansion, and in particular the resistance of glass to temperature changes; thermal properties are combined with the phenomenon of internal stresses of glass products; in the rapidly cooled glass mass, large temperature differences arise between the inner and outer layers due to low thermal conductivity; this in turn causes stress to appear, that is, intermolecular forces, compressing and stretching;
• mechanical, such as:
- hardness, i.e.. resistance of the glass to scratching or grinding, largely dependent on the chemical composition; the hard ones include glasses with a high content of silica and calcium oxide, for soft and lead glasses (crystal),
- brittleness, i.e.. ease of cracking; Unfortunately, this property is characteristic of most glass products; this is a disadvantage of this material;
• chemical - glass is highly resistant to chemicals, only phosphoric acid(V) and hydrofluoric acid destroy glass (they digest them); under the influence of long-term exposure to water, glass loses its brilliant shine and becomes matt;
• dielectric, which means, that the glass has a low electrical conductivity.