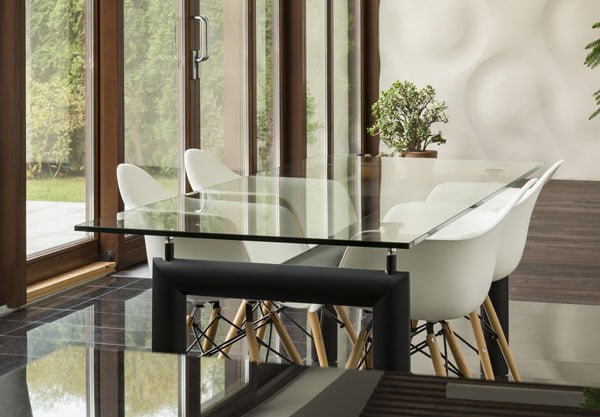 Characteristics of household glassware.
Household glass includes a very wide range, m.in.: table glass, fancy goods, crystal, mirrors, thermoses and heat-resistant glass. These are products of various shapes, sizes and colors. They can be decorated or plain, thin-walled or very thick, depending on the prevailing fashion trends. The most important measures of glass quality, especially table glass, are the optical properties and the smoothness of the surface (hygienic use). Household glass can be formed by hand, automatically, by blowing or extruding.
Single products are available for sale, in sets or sets. The sets consist of a group of products that are functionally related to their intended use, with common shape features and possibly the same method and pattern of decoration, e.g.. glass set for cakes, for compotes. The set is a collection of several sets for various purposes, often supplemented with individual products, which share common features, how: barwa, shapes, decoration. The assortment of household goods made of glass is given in table.
| | |
| --- | --- |
| Product group | Assortment |
| Tableware for eating and drinking | glasses, saucers, beer mugs, cups, saucers, compote boxes, glasses, ice dishes, jugs, karafki |
| Kitchen utensils for food preparation | spice dishes, jam, buttermilk, sugar bowls, lemon squeezer, graters for fruits and vegetables, trays, springform pans, fruit and cheese lampshades |
| Auxiliary tableware | napkin holders, candlesticks, ashtrays |
| Room decoration and artistic products | vases, cups, figurines, baskets |
Do wyrobów ze szkła stołowego belongs: glasses, saucers, glasses, saucers, compote boxes, jugs, karafki, beer mugs, cups, ice dishes.
Do najbardziej popularnych należą szklanki ze spodkami and their kits on 6 or 12 people. Glasses are made of soda-lime or potassium-lime glass, molded by pressing or blowing. They may not be decorated or decorated, different thickness and size (volume). They must be resistant to sudden changes in temperature and should not crack when slowly filling them with water at a temperature of approx. 95°C.
The capacity and shape of the glasses depend primarily on their intended use. Among the numerous assortment we can distinguish glasses for: liqueur, vodka, cognac, white and red wine and champagne.
Some household glassware is made of crystal glass with very good optical properties, especially high transparency and high refractive index. These products are very often richly decorated by carving and engraving. Slots of specific sizes made in the glass, of various depths and variously spaced apart, they create patterns and decorative compositions. The labor consumption and type of decoration are included in the so-called. decoration class (for ground decorations - 6 class, for painted decorations - 3 class). Classes I and II include the simplest cuts, while higher classes are assigned to more noble decorations, intensifying the brilliance of the reflected light and the silvery shine.
Mirrors fulfill utility functions, as well as decorating rooms. They are flat glasses, colorless, obtained by the float method. The rear side of the mirror is coated very carefully with silver nitrate (AgNO3). In order to protect the thin layer from scratching, mini-paint is applied. The third layer is a lacquer coating, which protects against moisture and weather conditions. Mirrors are made of sodium-potassium-lime glass, as well as crystal.
Heat-resistant glass cookware is intended for baking or heating food. These are glass products additionally hardened.
Thermoses consist of an ordinary glass insert, plastic housings, less often metal, cork and screw cap, which also serves as a drinking vessel. There are thermoses for liquids. 0,5 -1,0 liters and thermoses for dishes. The glass insert is a double-walled vessel, silver-plated on the inside, with a vacuum between them. The glass of thermos flasks should be resistant to sudden changes in temperature. With subsequent filling with water at a temperature of 20, 100, 40° C, the glass insert should not show any signs of cracks.