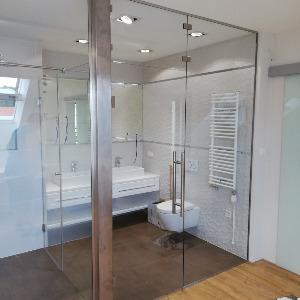 Building and technical glass.
The main properties of building glass, from which its application results, to: transparency, chemical resistance to weather conditions, high hardness, bad thermal conductivity and non-flammability. The disadvantage is its fragility.
Construction glass includes mainly flat glass, fittings, foam glass.
Flat glass, popularly known as glass, it is formed most often by the float method. It is about this, that the solidifying soda-lime-magnesium glass mass is rolled on the surface of the liquid tin, which creates a smooth pane of glass. In order to improve resistance to mechanical damage, steel wire mesh is fused into some glasses, the so-called. wired glass. In construction, the so-called. golden windows, i.e.. glass obtained by an additional process of applying metallic layers or by spraying metal in the mass (tinted glass). This glass protects against solar radiation, but at the same time it provides total visible light transmission. It is characterized by greater mechanical strength, higher softening point.
In addition to flat glass, various types of fittings are used in construction. Those are: bricks, roof tiles, glass tiles, called glass blocks, i marbit (rolled tiles, used for lining walls and floors).
New technologies have been developed in recent years, allowing the production of glass with increased thermal insulation, sound (double glazing) and a glass of safety. The name of safety glass covers toughened and glued products, which are to protect people from injury in case of their damage. Tempered glass is obtained as a result of an additional processing process, significantly changing the mechanical properties. As a result of this treatment, uniformly distributed stresses of appropriate magnitude arise in the product. If damaged, it breaks into small pieces with blunt edges. This glass is also used as car windows.
The task of building glass is to provide natural light inside the rooms, and contributing to savings on heating costs, improving the microclimate of interiors.
According to the EPS, technical glass includes:
- glass tubes and rods,
- laboratory glass,
- electrotechnical glass,
- other lighting glass,
- optical glass,
- sanitary glass.
It follows from the given classification, how diverse is the use of glass and how important it is in the everyday life of every human being.