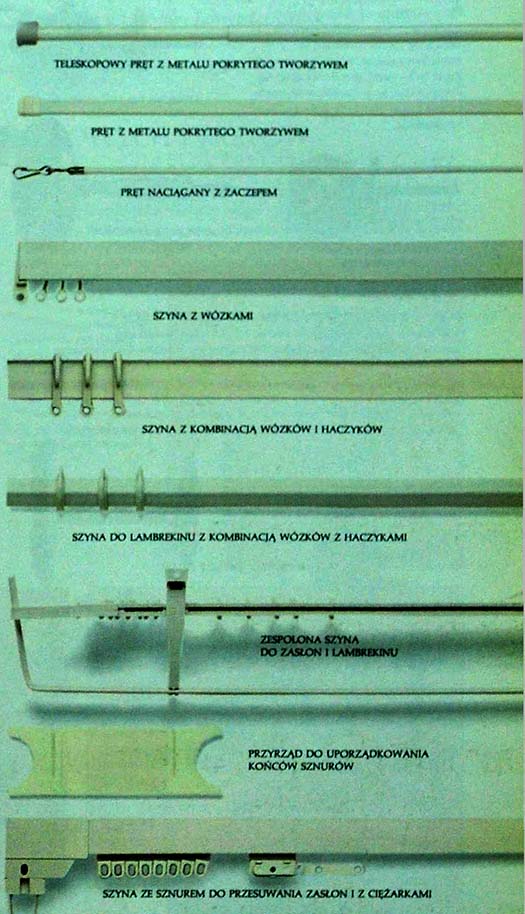 You can use a spring wire or a small diameter rod to hang light curtains. Other types of curtains and heavy curtain fabrics require different hanging methods. There are rails available for sale, fixed to the wall or ceiling with multifunctional brackets. The curtains are hung on special trolleys and hooks or a combination of trolleys with hooks.
SIMPLE CURTAIN RODS
For light, mesh curtains, which are not pulled apart, special spring wires or plastic coated rods are used. Wire, and so is the rod, can be attached to the face of the wall or to the side walls by means of eye screws or brackets. Plastic-coated telescopic rods extend according to the size of the covered area.
RAIL WITH HIDDEN CARTS
The prams are hidden here behind a flat bar. The curtain hooks are clipped onto the tape that lines the curtains and hung on the prams. The stop at the end of the rail holds the trolley last on the edge.
RAIL WITH A COMBINATION OF TROLLEYS WITH HOOKS
Here, trolleys connected with hooks slide along the face of the rail and support single hooks plugged into the curtain's wrinkle tape or are pinned directly into the tape.
LAMBREKINE RAIL
The simplest is the lambrequin rail placed in front of the top of the curtain, provided with put-on brackets and connecting plates. It can be adjusted to any window. regardless of its width and shape.
COMBINED RAIL FOR LAMBREKINE
When sewing a set of curtains with a lambrequin, we can use an appropriate combined rail with a lambrequin rail. Such rails, easy to assemble, can be easily attached to the wall or ceiling.
PUSHING CABLES AND TENSION RODS
Rails are sometimes equipped with cords for sliding, easy to draw and reveal curtains. Weights on the ropes prevent them from tangling. The central trolley with an extended arm serves this purpose. for the curtains to come down in the center. An alternative solution is to attach the sliding bars to the central trolley at the center edges of the curtains.
ELEMENTS FOR MOUNTING RAILS
Additional mounting elements allow you to adjust the suspension systems to each opening. Pull-out brackets are used, to hang the curtain away from the wall or to support another rail or lambrequin rail on it.