We choose the rails most suitable for the tape or for the manual shirring of the curtain. We measure the width of the window, with extra space on both sides. Depending on the needs, the rail can be cut to the required length. Small holders are used to fix the rails. With a pencil, mark the places for the rail holders on the wall with centimeters and rulers. We drill holes with a concrete drill, we put in them appropriate wall plugs, and then fasten the handles by screwing in the appropriate screws with a screwdriver.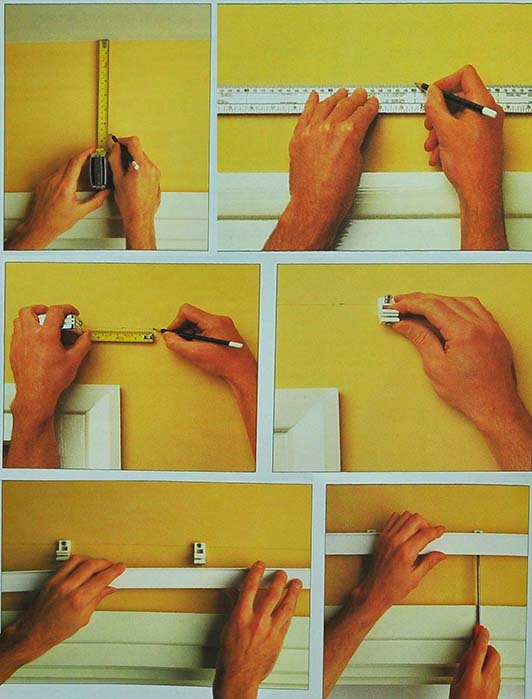 1 MARKING AND PLACES OF THE RAIL
We use a pencil to mark a string of points above the top edge of the window, equidistant from the ceiling. If the rail is to be mounted very close to the ceiling, remember to leave space for the installation of the cornice.
2 APPROVAL OF THE GUIDE LINE
We pass the line through the previously designated points, by drawing it directly on the wall with a ruler. According to the manufacturer's instructions, specifying the minimum safe distance between the holders fixing the rail to the wall, we mark these points on the wall.
3 MARKING OF PIN DRILLING PLACES
Starting from the edge of the window and leaving space to the side, mark the places of drilling holes for the dowels with a pencil (here left aside 10 cm). The first point, in which the handle will be attached, should be distant by 5 cm from the end of the rail. We drill the first hole and insert the dowel.
4 MOUNTING OF THE HANDLES
We put the first handle and the appropriate screw in the designated place. We lightly push the end of the bolt into the dowel and screw it in. We fix the next handles in a similar way, drilling holes, inserting the dowels and tightening the screws.
3 RAIL LOCATION
We make sure, that all handles are correctly positioned. Then insert or press the rail into the holders. If it turns out, that the rail is not centered over the window, it must be removed and reattached.
6 FASTENING THE RAIL
If the rail is in the right place, we attach it to the handles with the screws next to them.