When screwing the curtain rods, remember to leave a place on both sides of the window opening that allows you to freely reveal the curtains. The curtain rod should be attached to the wall or to the window frame. Rod or rod curtain rods are by definition visible, the rails are hidden behind the curtains. Let's make sure, that rod, a bar or rail runs parallel to the upper edge of the opening or ceiling.
If windows and walls are definitely at right angles, let's use a spirit level, if not, let's check the position of the installed curtain rod "by eye".
INSTALLATION OF BAR CURTAINS AND RODS
Metal or wooden rod curtain rails and rods, complete with brackets, are manufactured in several standard lengths and can be cut as required. First, we measure the width of the opening along with the frame and take into account the space for the drapes on both sides of the opening. Then we choose a stick or a bar at least as long as the measured distance and determine the number of circles needed. We mark with a pencil 5 cm above the window opening, a line running along it and beyond its outline on both sides. We attach the brackets to the wall, using a concrete drill, dowels and screws and a screwdriver.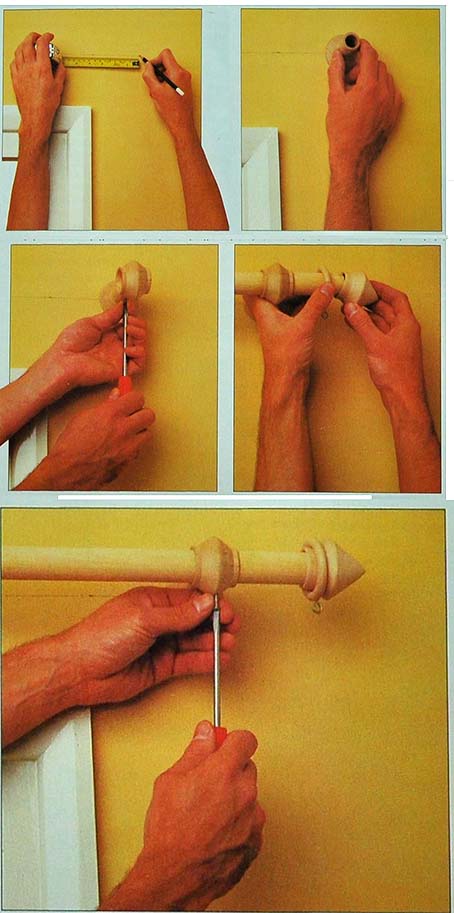 1 MARKING A PLACE
We mark the place of fastening the bracket on the line, remembering to leave space on both sides for hanging curtains and additional ones 5-10 cm on both sides, if we plan a decorative end of the rod extending beyond the bracket. W oznaczonym miejscu wiercimy otwór ' i umieszczamy w nim kolek.
2 ADJUSTMENT OF THE BRACKET
We screw the bracket into the dowel. Fasten the second bracket on the other side of the window. If the stick is long, remember about the additional bracket in the center, to prevent the rod from bending under the weight of the curtains.
3 ATTACHING THE SUPPORTS
We insert the supports into the luminaires attached to the walls and screw them with small screws. We slide the bar through one of the brackets and place all the circles on it (except for two). Then slide the bar into the second bracket.
4 FASTENING ENDS
At one end of the bar, place one of the two left circles and fasten the end of the bar. We do the same on the other side. Place the bar in the center within the brackets.
5 FASTENING THE BAR
The final step is to insert the small screw provided in the kit into the hole at the bottom of each bracket clamp. As soon as the screw is screwed into the wood, the bar will be securely in place.