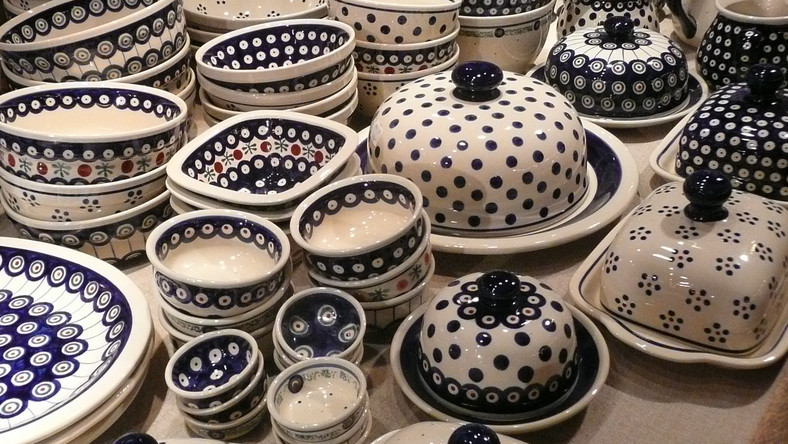 Storage, packaging and quality requirements of ceramics.
Ceramic products during storage, especially table and artistic ceramics, must be in dry rooms, with an ambient temperature of approx. 18°C. Earthenware products, due to high water absorption, should be stored at a relative humidity of the order 60 — 70%. In warehouses or warehouses, ceramics should be placed on shelves, landings in the so-called. piles. The number of items in a stack is very often specified in the relevant standards. When there are no specific rules, then the products should be arranged like this, in order not to damage them.
The packaging of ceramic products should provide them with maximum protection. The most common materials, which are used as packaging, to: paper, blotting paper, cardboard boxes, plastics (shrink foil), wood (cages, chests, wood wool). Small and decorated products are protected by direct packaging, i.e.. wood wool, tissue paper, the intermediate packaging is wrapping paper (from which packages or bundles are made, tying them with string and wrapping them with adhesive tape), cardboard boxes, cages. Transport packaging is also used - containers. The packaging of ceramic products must be marked with handling marks, such as "carefully fragile".
In accordance with the standards, individual products should be permanently marked. The trademark is usually located on the underside of the product, fixed by firing. In addition, they should be on the label: product name, type, quality control mark "KJ", year of production, the number of items, Barcode. Code letter-digital marking is used for building ceramics and placed on the packaging. It concerns glazed products (S) and not glazed (N), the type of enamel, decoration or mass.
When assessing the quality of a batch of ceramic products, the properties and characteristics of individual products are subject to comparative tests. The most important of them are listed in the table.
Type of ceramic product

barwa

translucent

sound

Porcelain

White

translucent

pure metallic

Porcelite

white or light cream

non-translucent or poorly translucent

non-metallic, quickly fading away

Faience

light gray, light cream

non-translucent

deaf

Kamionka

White, grey, Brown

non-translucent

strong, short, quite sonorous
Properties

hardness

enamel

water absorption

acid resistance

decoration

Porcelain – harder than steel and granite

hard, strongly melted

0,2%

big

overglaze and underglaze

Porcelite – hard

hard, strongly melted

4,0%

big

overglaze or absent

Faience – soft

breaks easily, check

10-14%

small

overglaze and undercoat

Kamionka – hard

hard

8,0%

very big

mostly

lack
In an incomplete study (receiving) they are most often assessed:
- product color,
- translucency and wall thickness,
- appearance (Shape, edges, fixing the feet and handles, accuracy of glazing),
- differentiation of the type of decoration,
- sound when lightly hit,
- product hardness.
During the production of ceramic products, for various reasons, unintentional deviations - quality defects - may arise. The most common defects are:
• shape defects:
- deformation of the product shape in the form of curvatures, ovality and twists,
- the unevenness of the bases,
- defects in gluing;
• surface defects.
- surface roughness of the product,
- bald patches, i.e.. places intended for glazing not covered with glaze,
- enamel stains and thickening,
- chinks,
- enamel chipping;
• defects of the ceramic mass:
- blisters,
- cek - hairline cracks;
• defects in decoration:
- deviations from the designed pattern,
- color deviations,
- pattern interruption,
- the presence of foreign paint on the surface of the product,
- wear of decorations,
- stains.
Depending on the number of minor defects, finished products are classified into three types (I, II and III). Depending on the decorating technique, the type of paints used, the richness of pattern elements in the production plant, based on the established point scale, the appropriate class of decoration for table ceramics is determined. These classes are marked with Arabic numerals from 01 do 23. Most often, grade I products have grades 08 – 23, grade II - 01 – 07, grade III is most often not decorated.