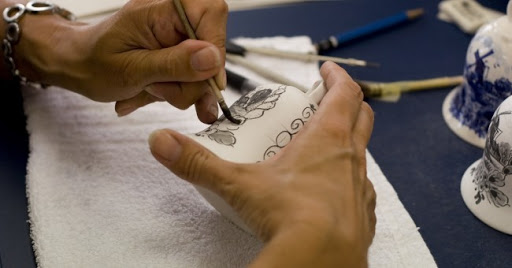 Raw materials and technological process of ceramics.
Raw materials for the production of ceramic products can be divided into two main groups:
- plastic raw materials,
- non-plastic raw materials.
It follows from the very definition of ceramic products, that basic plastic raw material these materials are clay - kaolin (H2Al2And2THE8 • H2THE) as a product of natural fragmentation, i.e.. weathering of granite rocks, especially a mineral, called feldspar. Kaolin is the name of a mountain in China, from which clay was made to make the finest porcelain. Chemically, clay substances - clays are a mixture of many chemical compounds: Alumina2THE3, silicon oxide SiO2, iron oxide Fe2THE3, water H.2THE. Kaolin clay is white or slightly cream colored, it is brittle and loose. After adding water to it, it becomes plastic and can be freely formed, after firing it loses plasticity, she becomes tough, stone and retains its shape before firing. The melting point of clayey substances varies, highly dependent on the chemical composition. Kaolin deposits in Poland occur in the vicinity of Lower and Upper Silesia near Nysa.
Do non-plastic raw materials belongs:
- slimming materials, i.e.. quartz (sand - SiO2), which reduces the shrinkage of fired products,
- fluxing materials, i.e.. feldspar and low-melting sodium compounds, potassium, litu, which facilitate the sintering of the body.
On technological process of ceramic products it consists of many activities.
Preparation of the ceramic mass:
- cleaning, weighing out, shredding of raw materials,
- obtaining a plastic mass by mixing the prepared raw materials with water,
- mass maturation (obtaining good plastic properties). A Molding of ceramic products by:
- turning on a potter's wheel,
- casting in plaster or steel molds,
- machine forming.
Drying the formed products.
Firing of products. Depending on the type of product, the temperature in ceramic furnaces reaches 900-2000 ° C. After the first firing, the products become hard and porous, they are then called bisque. At this stage, the technological process for some artistic products ends, electrical engineering. They have a matte surface, they resemble white marble.
Cooling down.
Glazing it consists in coating the body of the product after the first firing and cooling it with glaze (icing) with the consistency of thin cream. The chemical composition of the enamel is included: silica (SiO2), lead oxide (PbO), calcium oxide (High) and in smaller amounts, oxides: magnesium, punishment, barium and potassium. The enamel can also be stained, e.g.. by adding manganese dioxide (MnO2), cobalt oxide (CO2THE3) and nickel oxide (Ni2THE3).
Re-firing. At a temperature of approx. 1200° C the glaze melts and fills all pores in the body of the product. After cooling, a smooth surface is formed, uniform, shiny, impermeable to liquids and gases. This process increases the mechanical strength many times over.
Do ornaments ceramic products ceramic paints resistant to high temperatures are used, metallic gold, silver and platinum, colored glazes or the ceramic mass itself is colored. Decoration can be made using various techniques, e.g.. with a stamp, template, stalodruku, ceramic decal, by spraying, digestion. Hand painting is one of the most valuable decorations. Decorating ceramic products can also be a plastic decoration, consisting in appropriate shaping of the surface of the product before firing. Decoration elements can be applied to the glaze - overglaze decoration, or under the enamel - underglaze decoration. Decorated products are fired again, in order to consolidate them.
Quality control, sorting and packing. After the end of the technological process, the quality classification of the products is carried out, paying attention to:
- color, mass, translucent, product shape, surface appearance, dielectric properties,
- utility values, aesthetic, economic (the price),
- selection and origin of raw materials, the course of the technological process, degree of defectiveness.
Products that do not deviate from the intended properties and characteristics, making up the concept of the quality of ceramic products, are included in the species I., however, products of grade II may have slight defects. According to the relevant standardization documents, there are also products in grade III in the trade.