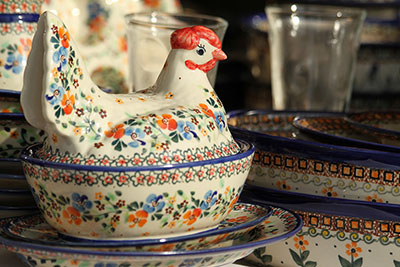 Classification of ceramic products.
Ceramic products obtained from clay materials, due to the characteristic porosity of the product shell (the shell), is divided into:
• sintered products, characterized by the ability to absorb water to a maximum of 5%, e.g.. porcelain, clinker brick;
• products with a porous body, which water absorption can achieve 25%, e.g.. building brick, lightweight aggregates for concrete, earthenware products, pottery (pots, vases, there is, jugs, flower pots etc.).
In the ceramics industry, the term noble ceramics is often used. These are porcelain products, porcelitu, faience, stoneware and some technical products made of these materials, which are characterized by a white body when fired. They are made of pure kaolins or kaolin clays, feldspar and quartz.
According to the CSG, precious ceramics are classified as:
161 - porcelain and porcelain products,
161-1 - porcelain tableware and porcelain accessories,
161-11 - porcelain tableware,
1612 - electrotechnical porcelain,
1613 - technical porcelain,
1614 - laboratory porcelain,
1615 - other porcelain products,
1615-1 - porcelain packaging,
1616 - tableware and porcelain accessories,
162 - stoneware products,
1621 - economic stoneware,
1622 - acid-resistant and electrotechnical stoneware,
1623 - sewage and sanitary stoneware,
1624 - building stoneware (tiles and fittings),
1625 - stoneware accessories and tableware,
163 - earthenware and other fine ceramics,
1631 - artistic faience,
1632 - ceramic sanitary ware,
1633 - majolica accessories,
1634 - pyrolite products, soapstone and cordierite,
1635 - glass and ceramic jewelery accessories,
1639 - other precious ceramics.
Due to their intended use and functional characteristics, ceramic products are divided into: tableware, technical and artistic.
The assortment of table ceramics is very rich and they are commercially available:
- sets of thin-walled porcelain dishes, e.g.. dinner services, for coffee,
- thin and thick-walled porcelain dishes, sold loose,
- sets of thin-walled porcelain dishes,
- earthenware dishes,
- stoneware dishes,
- ceramic accessories.
Haberdashery are utility items, often also decorative, mostly used in the household. They are not suitable for food and drink consumption.